Buffing Kit 651 6 Inch Drill quick kit
This 6 inch diameter buffing kit is a "quick" all in one buffing kit. Buff any metal or plastic to a fast bright shine with this quick one step kit. Comes complete with all you need to get started buffing.
The KIT-651 comes with:
-one 1/4" shank Mandrel that allows you to use the kit with any drill (Drill not included).
- (2) 6 inch 20 ply yellow spiral sewn buffing wheels with a 1/2"hole.
- one 4 oz. bar of BP-1025 High luster buffing compound
When stacked together on the mandrill the 2 wheels make roughly a 1/2 inch wide buffing head. In the KIT-651 you also get one 4 oz. bar of BP-1025 buffing compound. This compound is good for coloring all metals both ferrous and non-ferrous.For final high luster buffing on all metals and plastics. The Mandrel is 1/4" shank to 1/2"arbor. The mandrel comes with two end flanges and a nut. The 1/4" shank allows you to go right into your drill. The KIT-650 has everything you need to start buffing now. Drill not included.
You can add any other sewn buffing wheel of any diameter and use the Mandrel included. Add other compounds and polishes to your kit as needed. Add a 4 oz. bar of BP-415 for tough jobs that require some extra cutting and removal of scratches.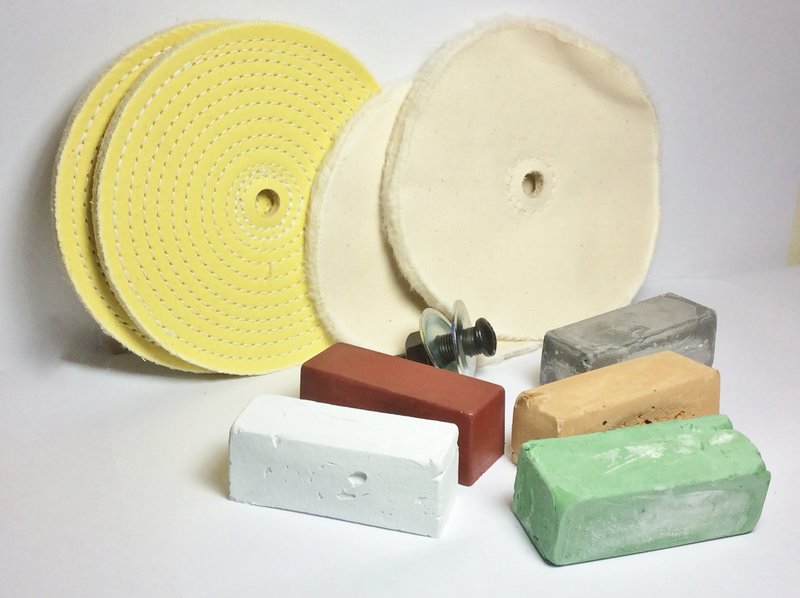 Reviews