Robotic Buffing and Polishing Cells
Designed and Installed for a Wide Variety of Manufacturers Bayland has a track record of proven systems designed and installed for a wide variety of manufacturers of products such as plumbing fixtures, door lock hardware, motorcycle parts, surgical implants, turbine blades, golf clubs, guitar bodies and assorted cat and forged parts. We work with our customers from conception through implementation and training, utilizing designs that may be derived from our standard systems of robot cells or custom engineered for the customer's specific application. With these systems, Buffing Robots enables the manufacturers to produce more consistent finished parts by transforming manual abrasive belt polishing and buffing into completely automated processes. Buffing Robots offer proven systems that are more reliable and easy to maintain. You can contact us with any questions or requests you have. PC operator interface for set-up, control and self diagnostics. The PC interface dramatically reduces operator training and set up time.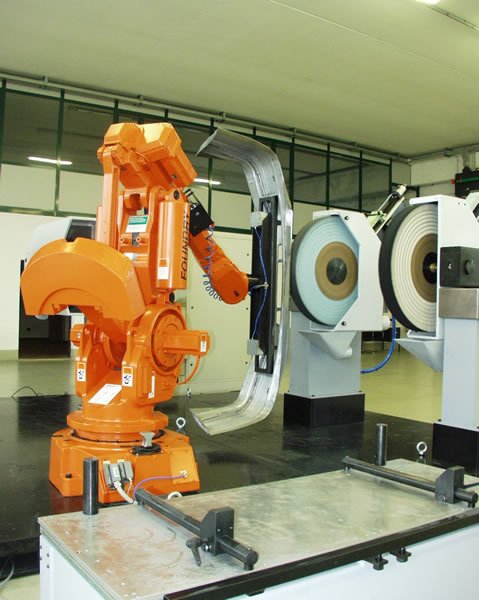 This system features:
· Self diagnostics
· System status information
· Alarm display with fault condition
· Production data
· Abrasive belt polishing force control
· "Sensy Buff" force control
· Automatic system compensating for tool wear, abrasive belts, and buffing wheels
· Speed control of abrasive belts and buffs
· Monitor and display of a complete list of inputs and outputs.
High Performance - Low Cost. Over the years, we have developed unique production assembly line methods that keep costs down for high performance robotic cells. These designs incorporate a heavy-duty welded common base for the robot magazine, and polishing and buffing units. Once completed, all units are entirely assembled, including all electrical connections, and fully tested following stringent QC criteria. Robotic Solutions include:
Combination Abrasive Belt Polishing and Buffing Robotic Cells
Linked Surface Finishing Robot Cells – via Transfer System or with Robotic Handling Interface
Single, Double or Triple Finishing Units
In feed Systems to suit parts and production needs
Flexible Tooling Systems
Automated Part Identification Options
Automated Program Selection
Automated Gripper Exchange Systems
Bayland designers and programmers work closely with your team to ensure that your robotic system meets all your requirements.
Each of our robotic finishing cells are competitively priced and backed by a guaranteed 24-hour turnaround service. The entire unit is pre-assembled, pre-wired and pre-programmed. Best of all, our comprehensive training program makes start-up a breeze.
Among the many features of our robotic finishing cells are:
Compact Design with small footprint
"Auto-Sense Buffing System" programmable force control abrasive buff units with contact wheel protection system
Heavy double walled welded common base for the robot, magazine, buffing or polishing units and safety fencing enclosure or sound and dust proof cabin
Simple operator interface for ease of set up and diagnostics
Rotary magazine with enough capacity to run 8 to 10 hours unattended
One year 3 shift standard warranty.
For more information on our Robotic Buffing and Belt Polishing units contact us or email us at:
Bayland Products Inc.
PO Box 190, Barnegat NJ 08005 Phone 609-698-1505 Fax 609-698-2147 Email: Sales@baylandproducts.com
We would be happy to give you a quotation on a unit or units built specifically for your operation.
We will get right back to you.